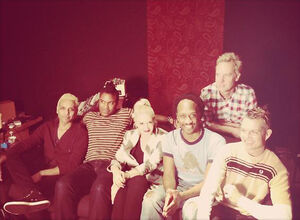 Below are some frequently asked questions regarding the band, Push and Shove, touring, leaks, etc. All content has been produced by Beacon Street Online. If you feel like something is incorrect or you would like to add, please let us know!
When is the album coming out?
The album now has an official release date of September 21, 2012 (Australia), September 24, 2012 (UK) and September 25, 2012 (USA). For all release dates, including singles, please visit the Release Dates page.
Who is producing the album?
No Doubt has been working with past collaborator, Mark 'Spike' Stent (Rock Steady, "Stand and Deliver"), dancehall, electric house DJs Major Lazer (Diplo and Switch) and Anthony Gorry of the Brixton Angels. Rumored producers included The.Dream, Detail (Tom confirmed the band had no plans to work with him at this time) and Ester Dean.
What will the new album sound like?
The band has been saying many things since the process started, but it's pretty clear that there are going to be very strong ska and reggae influences heard. No Doubt has shared a lot with us during their recording time and we can expect ballads, ska, reggae, new wave and dancehall. Also mentions of a timpani and string ensemble are used. A few critics have described some of the tracks as having a "neatly updated Rock Steady" sound
Will there be any covers on the new album?
No covers appear on the album but the band's take on Adam and the Ants cover of "Stand and Deliver" appears on the Special Edition of Push and Shove.
Will there be any guest appearances on the new album?
Yes. It's been confirmed that there will be only one: Jamaican artist Busy Signal appears on "Push and Shove", produced by Major Lazer.
Are No Doubt planning to tour with the new album?
Yes. Tony already confirmed that the band has plans for a world tour to support the album. Adrian stated in May 2012 that the band has plans to tour in world in 2013. There has been no official announcement on when that may be however.
Are any special editions or packages being released with the new album?
Yes. You can find all of the special and deluxe editions and where to get them here.
Are any album leaks available?
Yes, but please consider supporting the band that worked on this amazing album for years just for us.
Will there be remixes from the new album?
Yes. Several remixes are available on different formats and you can find a complete list here.