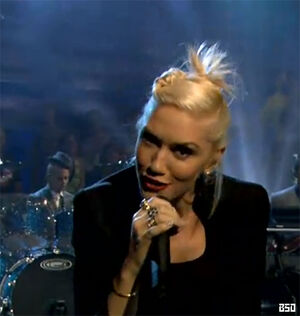 No Doubt perform their new single "Settle Down" live on Late Night with Jimmy Fallon on July 26, 2012. Tickets became available on NBC's website and quickly sold out for their appearance. This was the first time No Doubt performed on the program.
The taping took place at 30 Rockerfeller Plaza in New York, New York. Only 20 lucky fans were granted the "bandbench" pass to see No Doubt up close for the performance.
Jimmy mentioned Gwen Stefani in his opening monologue saying that he ran into her backstage and replied with "shh... don't speak".
The band started Tweeting earlier in the morning that they were on their way to soundcheck and they were really excited to be back in New York.
The previous day they had spent with Canadian press for interviews.
Soundcheck
[
]
Performance
[
]
No Doubt performed "Settle Down" twice for the show's taping. The audience was then treated to a special mini-concert featuring "Settle Down", "It's My Life", "Underneath It All" and "Spiderwebs". It was reported that "Spiderwebs" was cut short due to an amp being blown.