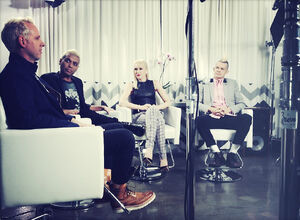 Below are links and transcripts of interviews No Doubt has given in the Push and Shove era. Follow links to possibly download audio and for more information. The interviews are listed by source, band member and date given.
Tom Dumont calls into Bloomberg Radio's Taking Stock to discuss the new album and how he's learned to take care of his finances.
Highlights of the interview include: Push and Shove has eleven tracks on it, his favorite song off the album is "Push and Shove" and that the band is planning on touring in most of 2013.