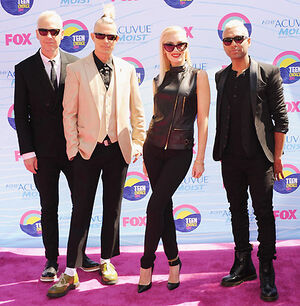 No Doubt debut their lead single from Push and Shove, "Settle Down", live at the Teen Choice Awards on July 22, 2012. Tickets went on sale for this event on May 25th and would be held at the Gibson Amphitheatre Universal City Walk in Burbank, California. Read more...
The Teen Choice Awards aired on FOX at 8:00 PM (ET/PT) on July 22, 2012.
No Doubt walked the "pink carpet" around 6:45 PM EST. They all donned matching black sunglasses and black attire. Gwen specifially wore a black leather YSL suit and Christian Louboutin heels.
This was the band's first red carpet appearance during the Push and Shove era.
Pink Carpet
[
]
(Access Hollywood) No Doubt performed new music for the first time since their reformation, taking the stage at Sunday's Teen Choice Awards to play "Settle Down," the first single from their upcoming album Push and Shove.
"It feels really rewarding because we worked really hard on this record," front woman Gwen Stefani told Access Hollywood before the show. "It was a really hard record to make. [It was] really challenging to find the time to do it, and now to feel like we're actually talking about it – this is the first time we're doing this."
No Doubt cleaned up their '90s ska look, replacing it with with edgy black and white ensembles while Stefani's signature platinum locks and red lips remained.
Bassist Tony Kanal explained why the four-year recording process for the new album was so trying.
"When we started working on the music, it really had to feel right before we were ready to put the record out," he said in the interview. "There's a lot of kids between us, so we're pulled in many different directions.
We're so proud of this record, and we put a lot of time into it. And here we are now, so proud to talk about it."
Stefani said her lyrics reflect the challenge of putting out the record with so many other commitments, like family and solo projects.
"Lyrically I think there is a lot about being overwhelmed, because I think it's overwhelming to try to do everything. There's a lot of that in the record I think," she said. "At the same time when we got together to write, it was our moment to escape and just be creative and not think about that stuff for a minute, and then go back and think about it again. So that was challenging – the two worlds – trying to make it all work."
Performance
[
]
No Doubt debuted "Settle Down" live at the Teen Choice Awards.